X CLOSE
Hooray, another kid's party…
Said no one ever!
Brace yourself, party season is upon us! The invitations keep coming home from school and when it comes to buying gifts for kid's birthday parties the question on most parents' lips is "How much do I spend on the gift?" Followed closely by "What should I buy?" and then "When am I going to have time to go shopping?"
Navigating Kid's Party Pressure
This can be one of those seriously tough things to navigate that you may not have initially associated with the pressures of family life. But the pressure is real. Your kid's popularity may hinge on it, we're not even kidding.
Of course, this is just one end of the extreme gaining traction on social media. And yes, we all secretly loved passing judgement on the mum who expected a $200 Goldmark gift for her daughter's birthday. True story. But most of us just want to get a decent present within our budget and without too much stress.
Reality is - your child's social circles may be growing or evolving as they start kindergarten and through primary school, so you might be buying presents for kids that you barely know, on top of being time poor and contending with interest rate hikes. All in the midst of dealing with your kid who either wants to buy 20 random items (mostly for themselves) or who doesn't even register that a gift needs to be bought.
Well, we hear you and we're here to help. So, there are a few factors to consider. The age of the child, their relationship to your child, the type of party and what school it is can all impact how much you should spend on a gift and what you should spend it on.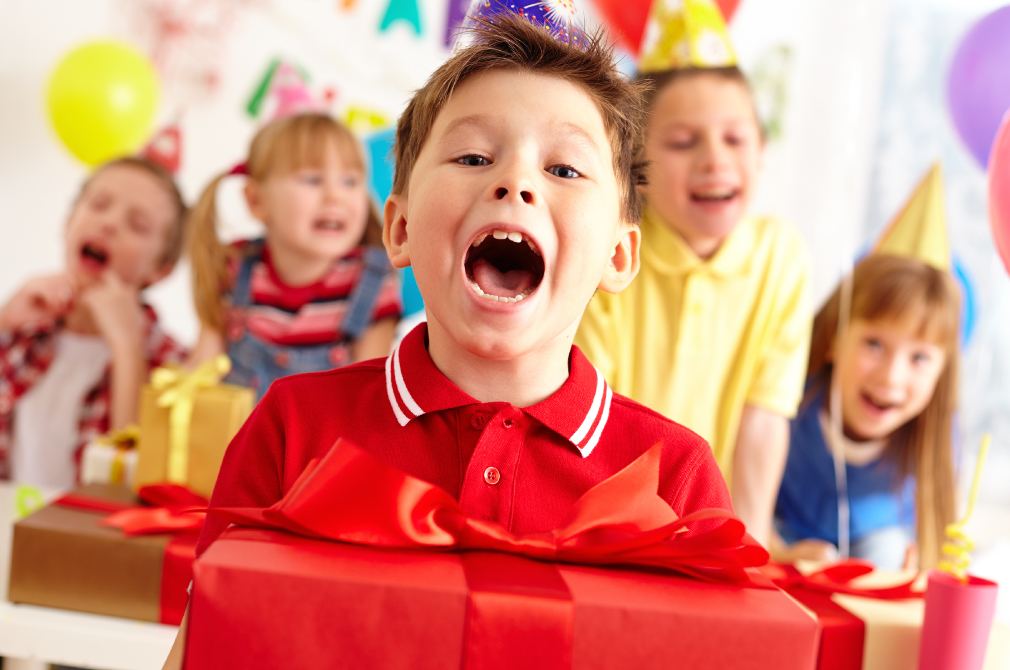 How Much To Spend & What To Buy
The short answer is - generally a $20-$30 spend should do it. If the child is your kid's bestie, you may feel comfortable spending a bit more on their gift. And equally less for a lunchtime acquaintance. Honestly there should not be a right or wrong here but of course we're all just trying to avoid falling short of expectations.
For younger children, especially those age 5 and under, a smaller gift is often appropriate. This can include things like books, puzzles, or a plush toy. For older children, consider their interests and hobbies. A gift that reflects their passions, such as a craft kit or outdoor sports equipment, can be a great choice. If all else fails, you can't go wrong with universally popular LEGO sets, board games or a gift card.
The type of party can also impact how much you should spend. If it's a small gathering at home, a lower-priced gift is acceptable. However, if it's a larger party at a venue, you may want to spend a bit more to reflect the occasion.
In summary, there's no one-size-fits-all answer when it comes to what to buy and how much to spend on kid's birthday party gifts. Consider the child's age, your relationship to them, and the type of party, and use your best judgement to choose an appropriate gift.
Get Tailored Gift Advice Just For You
If you come into Casey's Toys we'll take care of it all for you. Serious! Your very own personal gift matchers are ready and waiting. We know what to ask to help you find the perfect gift to get you to that party PRONTO! Plus, our Famous Specials mean you can save as much as 70% on a seriously cool present.
The best news? You don't have to hoard potentially unsuitable presents at sale time because at Casey's Toys our specials are on sale year-round. Budget is a real concern for many of us at the moment so come into Casey's Toys and get that $30 present for as little as $15. Plus, we can throw in a card, gift wrap or gift bag in fun assorted colours for just $1-$2 each.
Our Top Tips For Finding The Right Gift On Time And On Budget
Ask a Casey's Toys gift matcher (aka our friendly store staff) for their advice. Some useful info to come armed with:
How old is the child turning?
Do they have any specific interests?
What type of party is it?
Is there a party theme?
Check out our Famous Specials which sit toward the front of our stores. Biggest tip - it's where the best deals will be found! Our toy sales are refreshed every fortnight with huge savings on lots of top brands. Spend $20 on a gift worth $50 and everybody wins.
Save time by getting the present, card, wrap and gift bag all in the one spot. We make it easy for you to run in, grab the gift, card and bag, all en route to the party or in a sneaky lunchtime shop without the kids in tow.